THE ISSHINRYU NETWORK ANNUAL MEETING AND SEMINAR – ORANGE CITY DOJO – JANUARY 15 – 17, 2021 – PLAN TO BE THERE!
Come and celebrate with us the 65th ANNIVERSARY of Isshinryu Karate-do and the 13th Anniversary of the present location of the Orange City Dojo, on Friday, Saturday and Sunday, January 15 – 17, 2021, at the 26th Annual Winter Seminar and 18th Annual Meeting of the Isshinryu Network, with Grand Masters Chester Holubecki, Judan (10th degree black belt), Pete Haddad, Kudan (9th degree black belt), and Eduardo Gonzalez, Kudan, to be held at the Orange City Dojo, 130 May Street, Orange City, FL.
Events begin on Friday night (01/15/2021) with a get-together at Woody's Barbeque, 2621 Enterprise Road, Orange City, FL 32763, starting at 6:00 P.M. The Seminar and Annual Meeting will begin at 9:00 A.M., Saturday (01/16/2021). The weekend winds up with a breakfast and workout Sunday morning (01/17/2021). Bring your traditional weapons with you: roku bo, sai, and tonfa. Promotions, awards and announcements at noon, Saturday. Kanpai will be held Saturday evening after the Seminar, followed by dinner on your own.
ALL KYU AND DAN RANKS ARE WELCOME. Clean karate gi is required for the Seminar, Kanpai and Sunday Workout; casual dress for the get-together and Sunday breakfast. Seminar Fee: $40.00. Get-Together, Lunch, Dinner and Sunday breakfast: on your own; Kanpai: FREE.
For those who are coming from out of town and spending Friday and/or Saturday night(s) in Orange City, rooms MAY be available at the Orange City Motel at a reduced nightly rate. Last year the block of rooms were sold out almost immediately, so please plan to reserve early. When making reservations, please ask ask for the owner, Mr. Sam Patel, and mention Sensei Crowther's name and the Isshinryu Network. The Orange City Motel is located at 725 South Volusia Avenue (US 17-92), Orange City, Florida 32763, Telephone: (386) 775-2155. Hope to see everyone there!
~Crowther Sensei
17th Annual Winter Isshinryu Karate Seminar at the Orange City dojo on January 14, 2012, attracts many martial artists from the Eastern U. S. and Puerto Rico!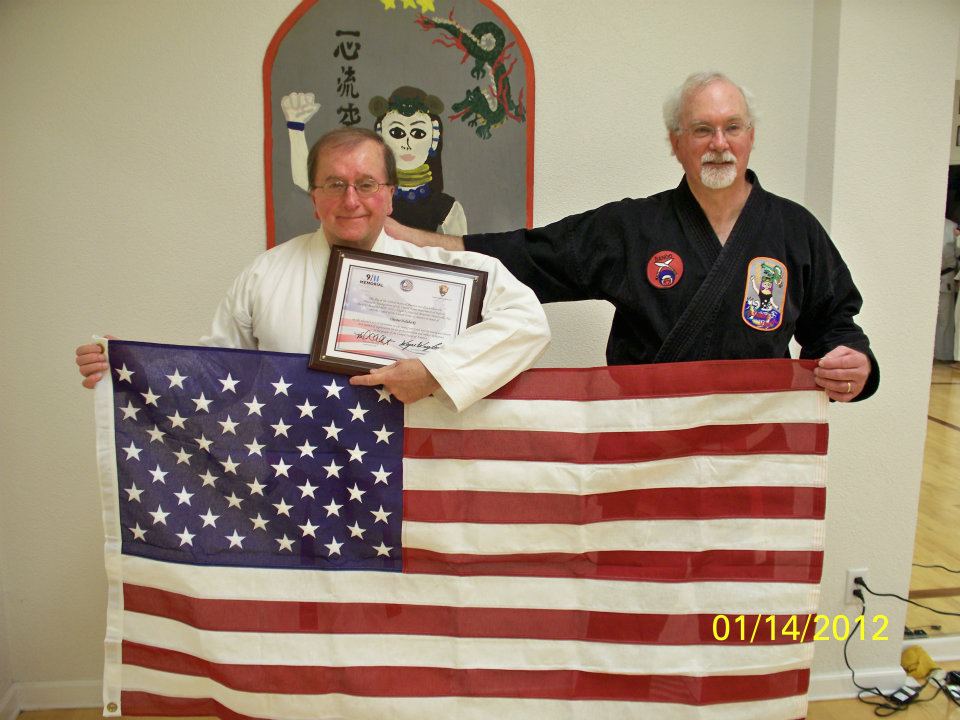 Grand Master Chester Holubecki, Massachusetts, accepts a VERY SPECIAL award from Master Wayland, Virginia. The plaque attests that the flag presented to him was flown over "Ground Zero" in New York City, NY, over "Patriots' Field" in Shanksville, PA, over the Pentagon, in Arlington, VA, and over the United States Capitol, in Washington, D.C., in honor of all those who were lost during the tragic events of 9/11/01, during the 10th Anniversary ceremonies held in New York, Pennsylvania, Arlington and Washington on 9/11/11. What an honor and what an award! It brought tears to Grand Master Holubecki and to many of those in attendance.